Our Coatings Are For More Than Just Garages
In Montana, we are the go-to provider for top-notch concrete floor coating systems. Our products stand the test of time and will give your stained and cracked concrete a new lease on life. Whether you need our services for residential or commercial purposes, we have got you covered. Our team of expert technicians has years of experience in floor sealing and concrete coating, and we use only the best materials to ensure that your floors look their absolute best. It's no wonder why our concrete floor coating products are leading the industry. Contact us today to learn more about how we can transform your floors!
Laundry rooms
Pool decks
Porches and patios
Basement floors
Garage floors
Walkways
Customize Your Concrete Coating
Are you tired of looking at your dull and damaged garage floor? It's time to transform it into a beautiful and durable surface with our epoxy garage floor coating solutions. Our Big Sky team of experts understands that every space has its own unique flooring needs, and that's why we offer a complete line of floor coating systems matched to your specific requirements. We provide floor sealing services that protect your floors from damage, spills, and stains. With our high-quality coatings, you can enjoy long-lasting durability and improved aesthetics.
Whether you want to revamp your home or give your garage a makeover, you can choose the perfect floor sealing and epoxy garage floor coating to match your style. With our wide range of finishes and colors, you can easily find the right option that complements your existing decor, or you can create a new look altogether. Our custom color options are a great way to add a personal touch to your space. Not only will it enhance the overall aesthetic appeal of your property, but it will also protect your floors against wear and tear.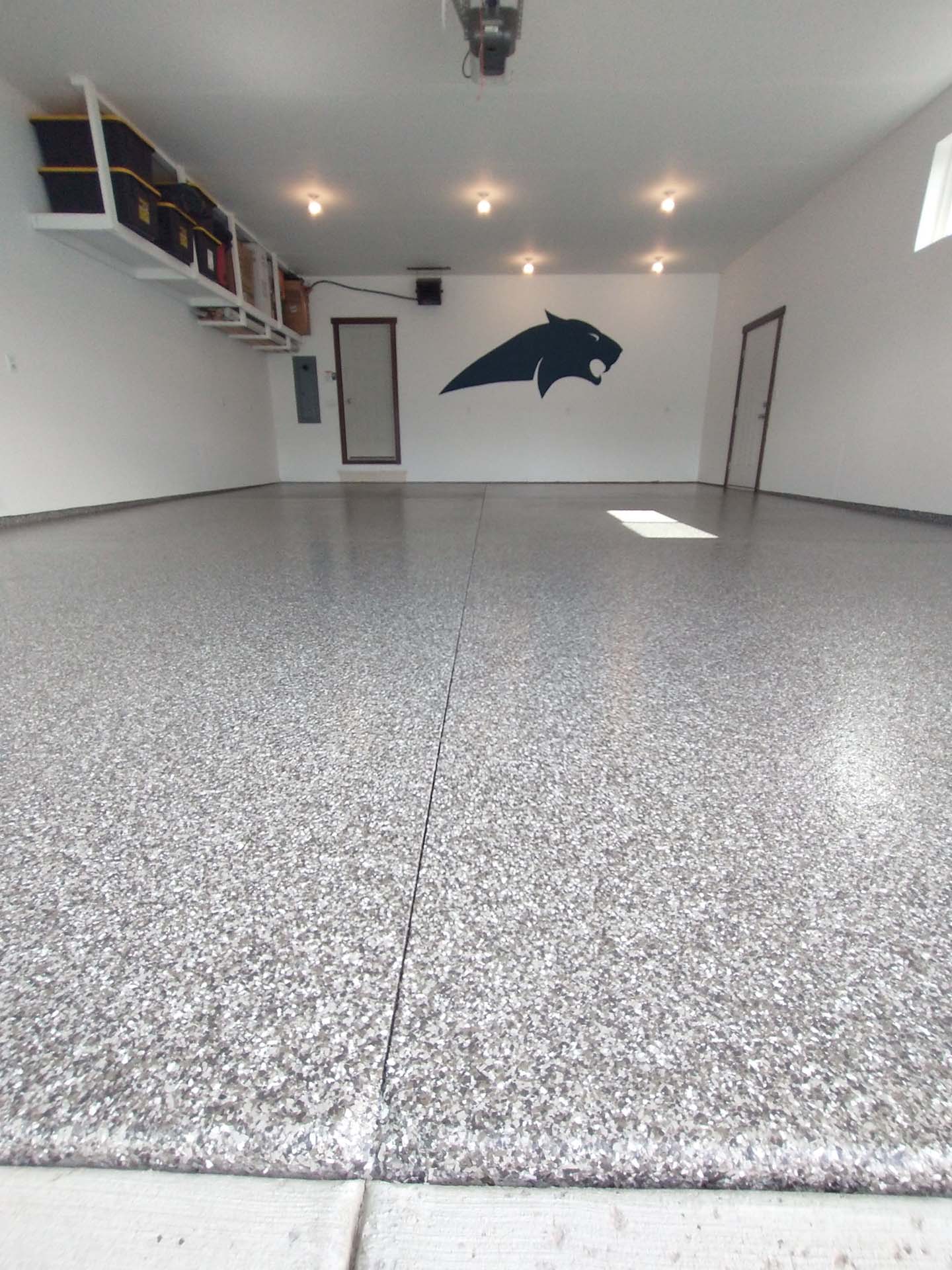 How It Works
Whether you're looking to update your warehouse flooring or revamp your showroom, epoxy flooring is a fantastic option. We know the secret to a successful project lies in the preparation. That's why when installing a new epoxy floor, we complete a thorough surface preparation method and test your concrete for important factors like hardness and moisture content before applying your coating. This ensures that every project has flawless results that will last for years to come. So if you're looking for a durable and attractive flooring solution, consider epoxy flooring for your next project.
Schedule a Free Estimate in Bozeman
If you're tired of your concrete floors looking dull and stained, it's time to protect them with an epoxy garage floor coating. Our Big Sky floor sealing services offer a range of options to fit your unique style, from bold colors to subtle finishes. Not only will your floors look great, but they'll also be more durable and resistant to damage. Don't wait any longer; schedule a free inspection today and let our experts help you choose the perfect system for your home. Say goodbye to boring concrete floors and hello to a beautiful and functional space.