Montana Concrete Coating Services: Price Guide
How Much Does a Custom Concrete Coating or Epoxy Floor Cost in Montana?
There's not a one-size-fits-all answer when it comes to determining how much a concrete coating project will cost. Every project is unique. We'll explain how the square footage, customization options, condition of the concrete, required preparation, and product selection all affect the total cost of a concrete coating project. At Yellowstone Concrete Coatings, we want you to have all the information you need to choose the flooring option that's best for you. Let's take a look at some details that affect the cost of our concrete coating services in Montana and beyond.
1. Square Footage
The price per square foot determines the base cost for concrete coating projects. This price per foot square foot will increase or decrease based on several factors such as the size of your space, customizations, and estimated time and labor, including set-up and application.
Special Layout Elements
The square footage of your concrete area is the first determining factor in cost. In addition to the square footage of your space, we need to account for special elements such as stairs, stem walls, and garage aprons. Coating these elements along with the flooring itself is essential for guaranteeing a beautiful and seamless look throughout your space.
Due to the many details involved in coating these additional elements, it takes a little more time to ensure everything is perfect. During the inspection of your Montana property, our concrete coating services team will help you decide what additional elements you can include in your coatings project.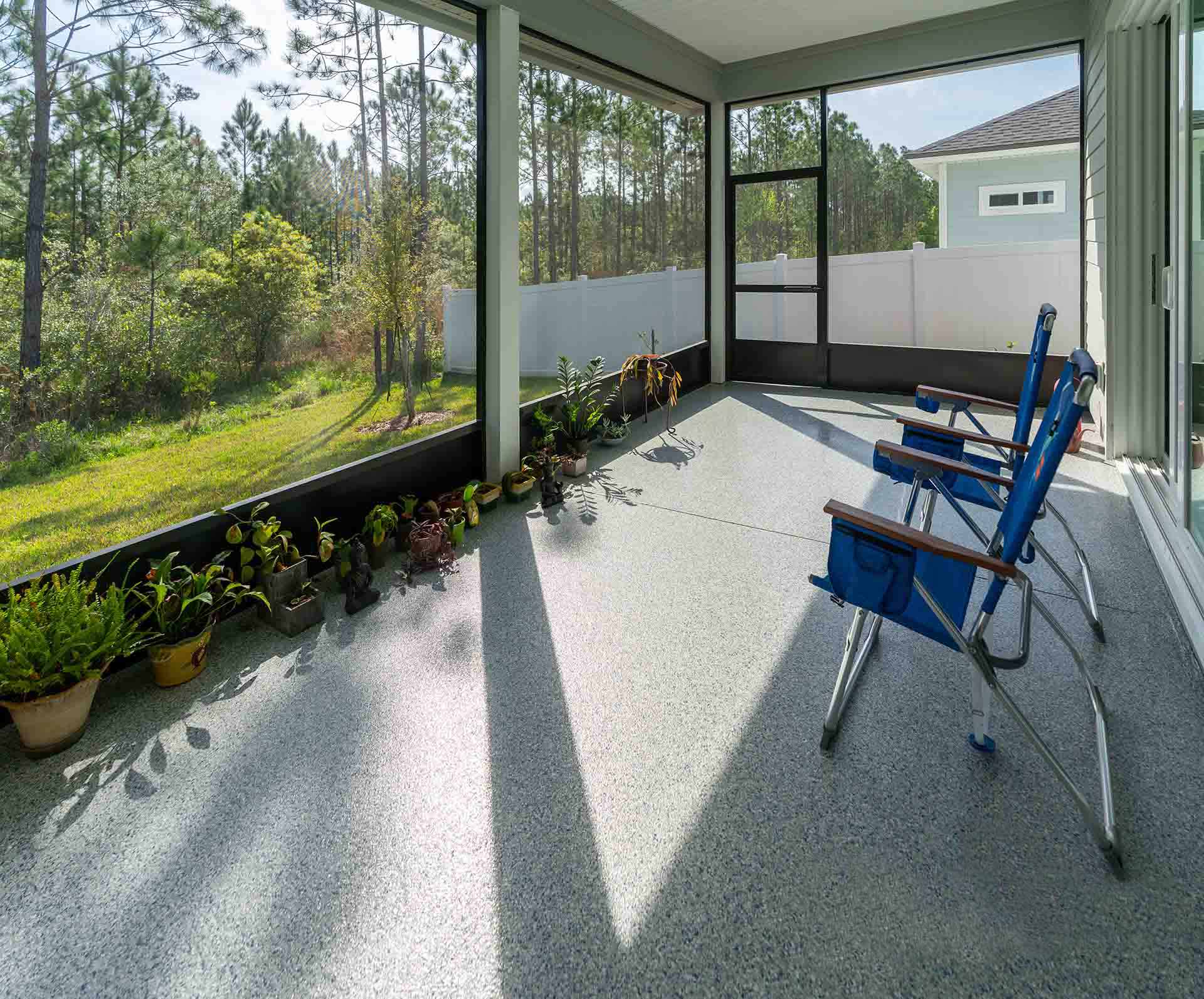 Type of Floor Coating
At Yellowstone Concrete Coatings, we have a wide variety of floor coatings, colors, and finishes to choose from depending on the level of protection you need and the custom aesthetic you want to create for your unique space.
Epoxy
At our Montana based company, the cost of epoxy floors is the lowest of all our coating options. While it's a great budget option for standard protection, we recommend our polyurea coating for floors that need maximum protection for harsh or high-traffic areas.
Polyurea
Our polyurea coatings are our most popular solution because it's four times stronger than epoxy. Polyurea will protect your floors from even the most extreme environments where heavy traffic, scuffs, sharp impact, and chemical spills are probable.
Pre-Installation Prep
The condition of your concrete is a significant factor in your estimated project cost, too. We need level, raw concrete with no cracks in order to get jaw-dropping, professional results. When determining the price for our concrete coating services in Montana and Wyoming, we need to factor in any labor and materials used to repair cracks or unevenness, the removal of pre-existing coatings, and the grinding of your concrete to a raw state.
Surface Cleaning
The first and foremost step in our coating installation process is ensuring that your concrete is ready for application. If it has a previous coating or the surface is uneven from dirt and debris, we'll grind it down to fresh, raw concrete before beginning your application.
Repairing Cracks
Once the surface is fresh, we need to repair any cracks or unlevel slabs so the coating doesn't sink into these areas and turn out imperfect. We have a high-quality PolyLevel foam injection method that will bring your concrete back to its original position so we can fill any cracks.
Hardness & Moisture Testing
Our Montana based concrete coating installation experts also check for hardness and moisture content in your concrete. This helps us decide what kind of prep work your floor needs before we start on an application. In some cases, we may need to apply a moisture barrier.
Custom Add-Ons
From custom chip color combinations to various finishes, Yellowstone Concrete Coatings always makes sure you're getting a floor that's perfect for your space's aesthetic. These different customizable options offered by our company in Montana affect the cost of our epoxy floors and concrete coatings. During our free consultation (link to contact page), we can help you determine what kind of special add-ons and colors are right for your concrete.
Why We Don't Recommend DIY Solutions
DIY solutions that you find at your local hardware store may seem like a more cost-effective floor coating option, but they just don't have the long-term durability that high-quality professional coating systems do. Not only are our coatings scientifically designed for industrial-level strength, but we also have an expert installation process. Our team is trained thoroughly to find any possible problems with your concrete before applying coatings so that we can ensure a flawless end result that we back up with a manufacturer warranty.
Plus, DIY projects can take a lot of time - especially if you don't have any experience. Our coatings are installed in as little as one day, giving you the ability to start using your brand new floor within 48 hours.
How We Determine Your Custom Estimate
To give you an accurate and honest estimate for your floor coating project, we need to find out exactly what you want and need. That's why we offer free consultations and no-obligation estimates on our concrete coating services in Montana and Wyoming. We'll inspect every potential aspect of the project like square footage, customizations, and prep work to give you a precise cost for your unique floor coating.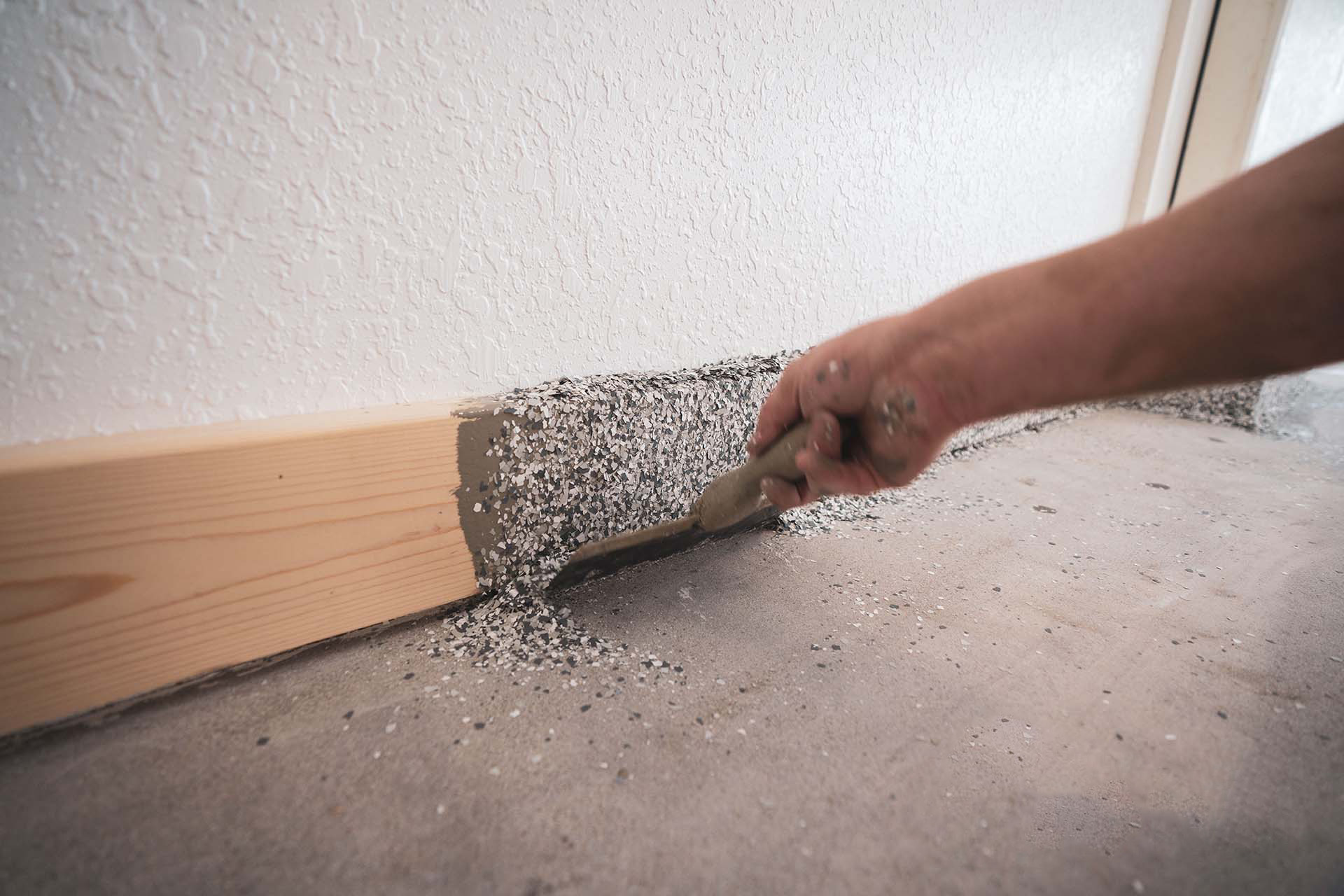 Learn About Our Financing Options
Yellowstone Structural Systems provides an array of financing alternatives for our residential and commercial customers in Wyoming and Montana. Our concrete coating services team wants to ensure that working with Yellowstone works for you.